Think-Tank für das Web 2.0
"Wir haben vorher kein Programm festgelegt", sagt Andreas Dittes, einer der Organisatoren des Barcamps. Wer wann mit wem worüber diskutiert, das entscheiden die Teilnehmer selbst. Statt eines genauen Ablaufplans gibt es ein Poster an der Wand. "I would like to hear…" ist die Überschrift. "Hier schreibt man einfach sein Thema drauf und dann kann man ja sehen, wer mitdiskutieren will", sagt Dittes. Dominik Rzepka
Shift happens: Der Wechsel geschieht
Warum ein BarCamp nichts mit einem Kneipenabend zu tun hat – Die Revolution in der Kommunikation:
Mit elf Jahren bekommt er seinen Computer – mit 23 berät er die Landesregierung Baden-Württemberg in Sachen Internet. Er ist Student einerseits, erfolgreicher Unternehmer andererseits. Das Wort PC-Freak greift viel zur kurz: Andreas Dittes nennt sich "Web-Evangelist."
Christina Hölz

SW Chronicles: GSB Team Acquires First Investor in 24 Hours!
We got a big surprise when on Saturday evening one of our mentors announced that he will directly invest in one of the teams, GiftExplorer. Wow, that was fast! Kathleen Fritzsche

Bloß nichts Privates
Als Blogger schreibt Andreas Dittes im Netz mittlerweile über technische Fortschritte
Simon Gajer

Bist du noch ganz echt?
Andreas Dittes treibt sich im virtuellen Zweitleben Second Life herum
Adrian Hoffmann
Startup Weekend Stuttgart III
KAndreas Dittes treibt sich im virtuellen Zweitleben Second Life herum
Kathleen Fritzsche

Im Netz auf der Couch lümmeln und übers Programm reden
Sulzfeld/Bretten – Früher war die Welt so einfach: Die Familie saß abends vor dem Fernseher, drei Programme gab's zur Auswahl und damit genügend Gesprächsthemen. Jetzt ist man übers Bundesgebiet verstreut, sitzt womöglich allein vor der Mattscheibe, doch das Bedürfnis nach dem Gespräch übers Programm bleibt. Das jedenfalls sagten sich Andreas Dittes, der aus Sulzfeld stammt, und Hannes Schippmann und Heiko Seebach. Sie gründeten das Internetportal Telewebber – die virtuelle TV-Couch, sagt das Trio.
Simon Gajer
Recent Blog Posts
Read more, but this time stuff I have written myself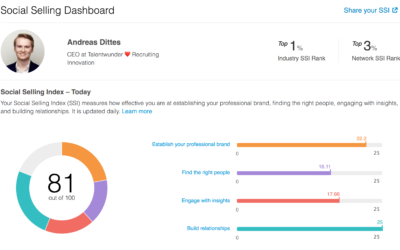 Social networks like Linkedin have become extremely important for our work in especially in recruiting and sales. So how can we leverage social media properly? You can break it down to these 4 pillars: 1) Establish your professional brand 2) Find the right people 3)...
Don't Be Shy. Get In Touch.
If you are interested in working together, send me an inquiry and I will get back to you as soon as I can!